Mambu Process Orchestrator
Please Note:
For certain contracts concluded before 2021, Mambu Process Orchestrator (MPO) is a feature limited to the Enterprise Technical Success Package. Please contact your Mambu Customer Success Manager for more information.
MPO is an add-on which acts as a middle layer between different systems to pull, process, and push data via APIs. The system uses a graphical user interface similar to Business Process Model and Notation (BPMN) graphing to model, create, and execute workflows that run in the cloud.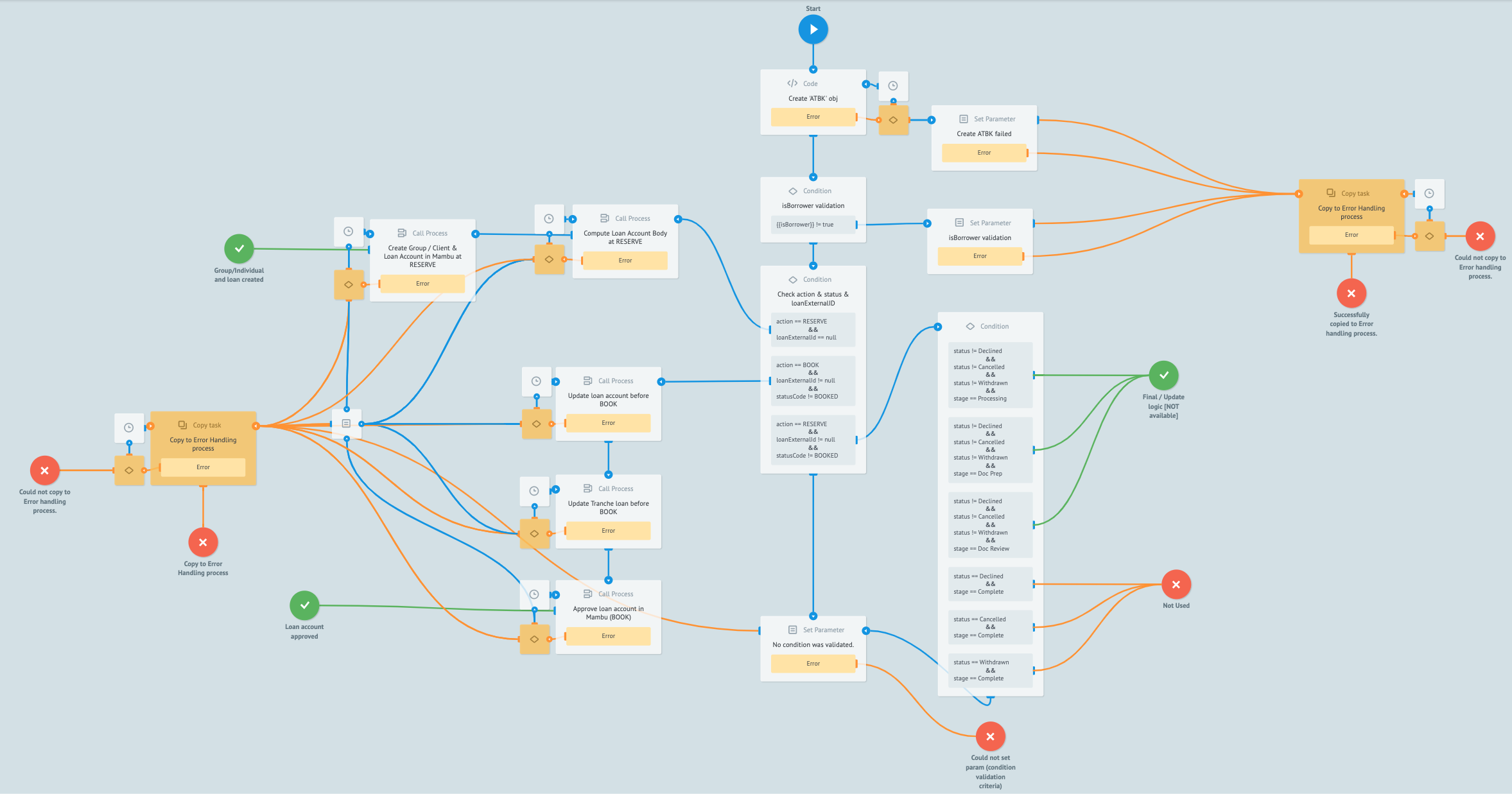 Using the drag-and-drop user interface, you can create, debug, and run processes and state diagrams - as well as access reports and statistics via customizable dashboards. MPO provides robust synchronous and asynchronous APIs to run and manage workflows or integrate into your existing CI/CD pipelines. The two main canvases of MPO are processes and state diagrams. Processes are where you create logic to execute business processes and state diagrams support this by storing state information and operational data that can be retrieved and used in any process.
For example, the ComplyAdvantage AML connector uses a state diagram to store clients that have been transitioned to an inactive state after the Stop Monitoring [link to Mambu webhook] process is triggered.
Note that MPO does not require Mambu to run, and may be used completely independently of Mambu as a standalone process orchestrator for any suitable application.
Please Note:
The MPO user interface (UI) generally works with major browser versions that are up to two years old. Chrome, Firefox, or Safari are recommended for working in the MPO UI.
How MPO fits into the Mambu ecosystem
In Mambu's composable banking architecture, MPO offers a low-code way to tie together different SaaS and in-house applications to create products and features for your clients or to meet your regulatory obligations.
​

MPO works well with Mambu Banking Engine to facilitate process interaction between components and it can be used to enhance Mambu's functionality by adding custom logic on top of the Mambu API. ​
Connectors and MPO
MPO serves as the base for pre-built connectors that can be used to integrate with Mambu ecosystem partners such as Wise for international transfers, or ComplyAdvantage AML for Know Your Customer (KYC) and Anti-Money Laundering compliance.
Example
You can create processes based around client creation to enrich Mambu with data from your marketing client relationship management system, trigger Know Your Client (KYC) and identity verification services, or easily execute bespoke business logic outside the scope of Mambu's core banking services. ​
About MPO
Where is MPO located?
As a cloud-based service, MPO is collocated with your Mambu instance to allow for fast data transfer with the Mambu Banking Engine. Processes are run across multiple availability zones, and data is transparently synchronized to a second availability zone, providing active fail-over in case of unexpected system outages. The service comes with a sandbox environment for testing your workflows in a non-production environment.
How to get MPO
MPO is an optional add-on. Speak to your delivery consultant or customer service manager to discuss your needs and set up a demonstration of the MPO.
How to access MPO
When your MPO instance is created, you will have an administrator account created for you. To log in, simply go to your MPO instance at your given URL and sign in with your email and password.
Please Note:
Passwords need to meet the following requirements to be accepted:
A length of between 9 and 30 characters.
At least one special character.
At least one number.
At least one uppercase letter.
At least one lowercase letter.
MPO development and release notes
MPO is created by Corezoid. You will find some references to their documentation in our MPO guide. There are some differences in available features between Corezoid and MPO - wherever differences exist between Mambu and Corezoid documentation, the Mambu MPO documentation should be preferred.
The release notes for MPO can be found on our Release Notes page on Community. Note that MPO follows its own release cycle, which differs from that of Corezoid.
Conservation policy and pausing unused instances
Mambu strives to be a responsible corporate citizen that minimizes its negative impact while creating shared value for employees, customers, and society at large. As part of our commitment to climate action, we ran an assessment of our digital infrastructure to identify opportunities to reduce energy consumption. As a result, we have decided to pause MPO environments that have not been used in over a month. This will allow us to save a significant amount of energy used to power the infrastructure, which would in turn reduce greenhouse gas emissions.
If your MPO instance is not accessible, please contact your Account Manager to have it immediately restored.